Best of Central Asia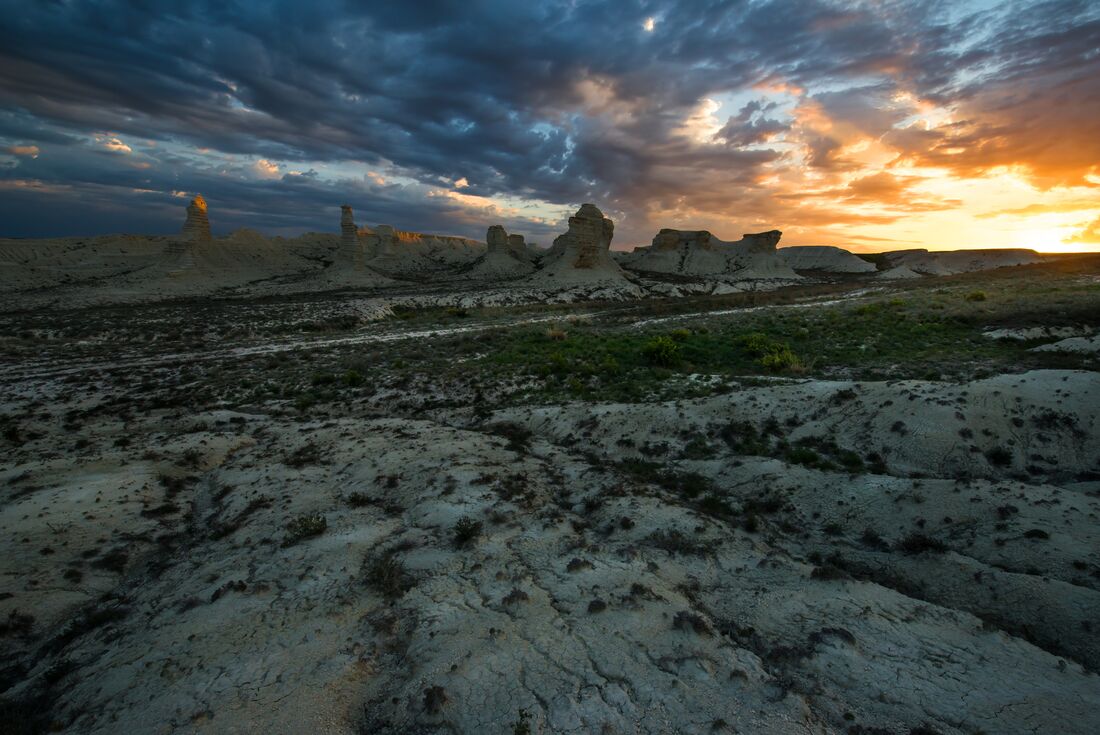 Best of Central Asia
Take a journey across the vast expanses of Central Asia on an expedition through the rugged and remote regions of Kazakhstan, Kyrgyzstan, Tajikistan and Uzbekistan. From the glossy modernity of Nur-Sultan with its futuristic cityscapes, to the spellbinding ancient architecture of Samarkand's mosques and mausoleums: visit unique cities and distant villages as you cross hundreds of kilometres of epic mountain passes and surreal landscapes – incomparable to anywhere else on earth. While political and military forces have battled over these regions for centuries, life in these isolated areas has changed very little – adding to the allure of this expansive cultural landscape. This is a trip designed for the true adventurer, for those craving escapism, outstanding beauty, unrivalled hospitality and the feeling of complete remoteness.
Activities
Nur-Sultan - City tour
Baikonur - Yuri Gagarin Museum & House
Baikonur - Cosmodrome
Baikonur - Space Museum
Otrar - Ancient settlement
Turkistan - Yasui Mausoleum
Almaty - Central State Museum
Almaty - Museum of Kazakh Musical Instruments
Almaty - Kok Tobe Hill
Almaty - Panfilov Park
Almaty - Medeu
Almaty - Zenkov Cathedral
Charyn Canyon - National Park
Karakol - Dungan Mosque
Karakol - Holy Trinity Orthodox Cathedral
Karakol - Przhevalskiy Museum
Karakol - Jeti Orghuz Canyon Hike
Cholpan Ata - Petroglyphs
Bishkek - City Tour
Osh - Suleiman's Mountain
Osh - Bazaar
Tajikistan - Karakul Lake
Langar - Petroglyphs
Vrang - Buddist Stupa
Ptup - Yamchun Fort
Khorog - Regional Museum
Khorog - Pamir Botanical Gardens
Khorog – Bazaar
Dushanbe - City Tour
Dushanbe – Hissor Fort
Dushanbe – National Museum of Antiquities of Tajikistan
Samarkand - Shakh-I-Zinda
Samarkand - Registan
Samarkand - Gur-e-Amir Mausoleum
Samarkand - Bibi-Khanym Mosque
Samarkand - Paper making workshop & home cooked lunch
Highlights
Discover the history and architecture of the Silk Road, visiting ancient mausoleums and mosques on guided tours in the cities of Turkistan, Sayram and Otrar.
Travel alongside locals and admire wild, sweeping vistas on train rides across the Kazakh steppe, then experience the hospitality of Central Asia with five nights spent across Tajikistan's excellent homestay network.
Surround yourself with the surreal landscapes of the Altyn-Emel National Park, including the mysterious singing sand dunes, then visit Grand Canyon's 'little brother', Charyn Canyon.
Soaring along the iconic Pamir Highway is an unforgettable experience, especially in fine weather when the mighty peak of Muztag Ata rears its head.
Witness the much-photographed Registan in Samarkand – one of the true pinnacles of Islamic architecture. Be wowed by the grandeur and beauty of the monuments to iconic figures such as Tamerlane

We get it – travel's a big decision. It's not every day you fly across the world to wander the souks of Marrakech or enjoy a dreamy Angkor sunrise. But for us, it's been our everyday for the past three decades (whew, we're old). Let's just say we know what travellers
really
want: a balance of inclusions and free time, a mix of classic highlights and local secrets you won't find on Google. And of course, an authentic real life experience.
Our leaders are born and raised in-count
...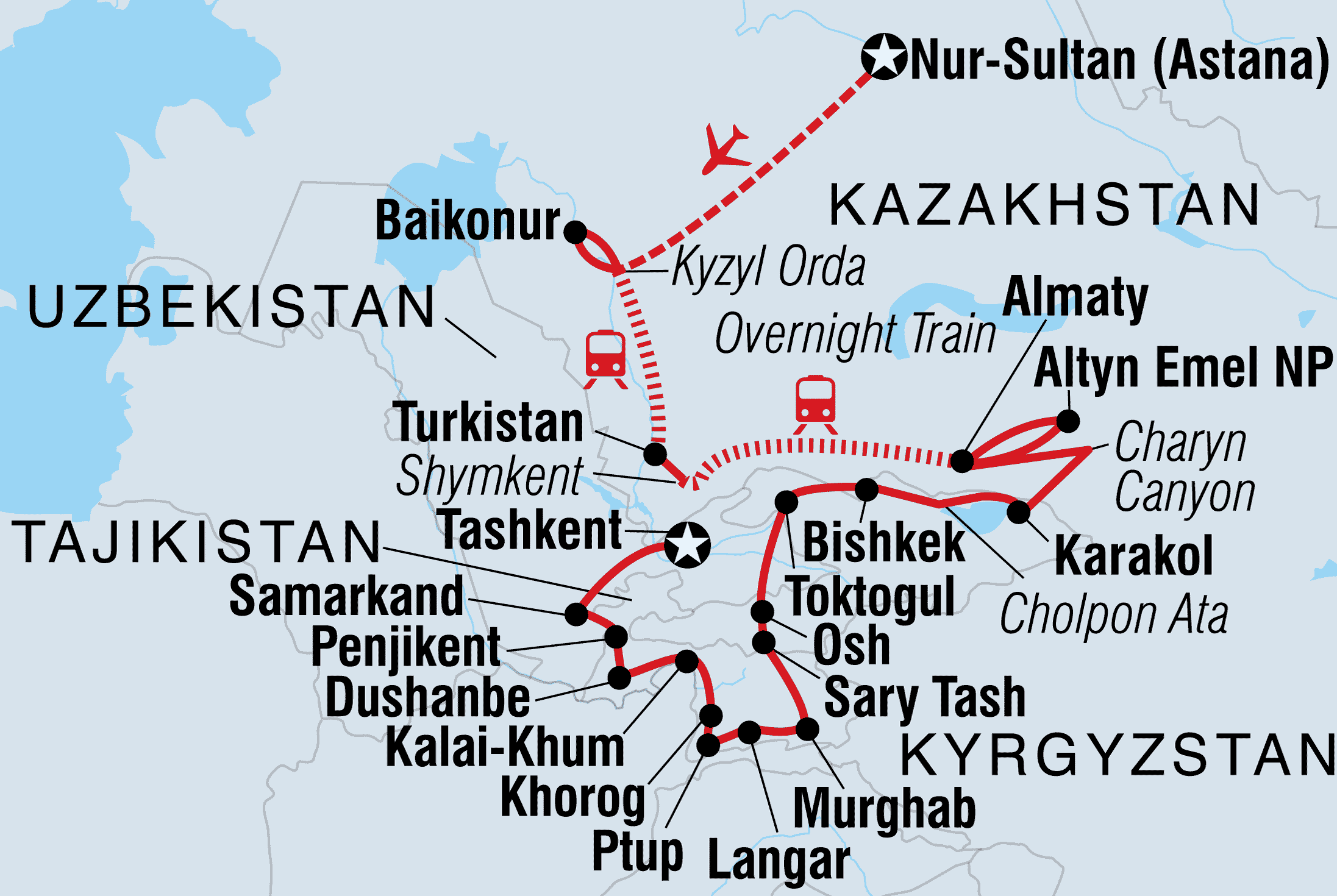 Day
Destination
1
Nur-Sultan (Astana)
2
Nur-Sultan (Astana)
3
Baikonur
4
Baikonur
5
Turkistan
6
Turkistan – Shymkent/Overnight train
7
Altyn-Emel National Park
8
Altyn-Emel National Park – Almaty
9
Almaty
10
Almaty – KAZ/KGZ Border Crossing – Karakol
11
Karakol
12
Bishkek
13
Bishkek
14
Bishkek
15
Chychkan/Toktogul/Kok Bel
16
Osh
17
Sary Tash
18
Kyrgyzstan/Tajkistan Border Crossing – Murgab
19
Langar
20
Ptup
21
Khorog
22
Khorog
23
Kala-i Khum
24
Dushanbe
25
Dushanbe
26
Penjikent
27
Tajikistan/Uzbekistan Border Crossing – Samarkand
28
Samarkand
29
Tashkent
30
Tashkent